Community Profile

Stuck between Realities...
... is definitely not a bad thing.
Free Account
Created on 2009-08-13 03:55:09 (#437390), last updated 2011-03-13 (340 weeks ago)
14 comments received
68 Journal Entries, 81 Tags, 0 Memories, 1 Icon

About
| | |
| --- | --- |
| Name: | Mira's Fanworks |
| Location: | Kuala Lumpur, Malaysia |
| Website: | [Journal] |
| Membership: | Open |
| Posting Access: | Select Members |
| Community description: | The Place where Mira Throws in Her Random Fanworks |

Mini Bio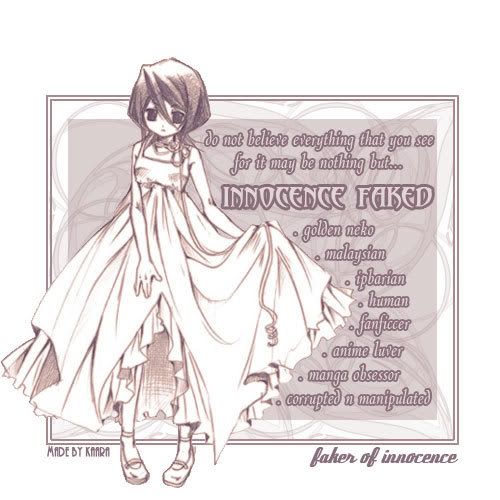 THIS IS THE COMMUNITY FOR MIRA, AKA

amirah/

goldenneko'S FANDOM WORKS.
Mira.
21-years-old. Aries. 240388. Malaysian. Half-Chinese, half-Malay. Teacher trainee. Third year student. University of Auckland, New Zealand. B.ed TESOL. Avid reader. Not-so-avid writer. Fan of anime/manga, fantasy/crime/historical-like books. Loves Darren Shan works. Crazy, but not insane.
Anime/Manga.
Air Gear [IkkixKazu, SpitfirexKazu]
Beyblade [KaixRay, BryanxTala]
Black Cat
Bleach [IchigoxHitsugaya]
Code Geass [SuzakuxLelouch, SchneizelxKanon]
Digimon Adventure 01 & 02 [TaichixYamato, KenxTakeru]
Durarara!!! [IzayaxKida, MikadoxKida]
Gundam 00 [LockonxTieria, SetsunaxTieria]
Gundam Wing [01x04, 02x04, 03x04]
Hunter x Hunter [KuroroxKurapika]
Katekyo Hitman Reborn [8059, 1859, 1827, 2759, D18, DS]
Kyou Kara Maou [YuurixWolfram, ConradxWolfram]
Kuroshitsuji [SebastianxCiel]
Marchen Awakens Romance [PhantomxAlviss, NanashixAlviss]
Prince of Tennis [TezukaxFuji, SaekixFuji]
Saint Seiya [HyogaxShun, HadesxShun]
Samurai Deeper Kyo [KyoxSasuke, YukimuraxSasuke]
Yami no Matsuei [MurakixHisoka, TsuzukixHisoka]
* In brackets [] are the main supported pairings.
A lot more, and will be added later.
Bands. Real Life People.
Tohoshinki/DBSK. Hey!SAY!JUMP. UVERWorld. Simple Plan. Aiba Hiroki. Yamada Ryosuke. Nakajima Yuto. Yabu Kota. KENN. Kato Kazuki.
Books.
The Saga of Darren Shan. The Demonata Series. The Book of Lost Things. Dracula. Perfume. The Historian.
WIP.
Samurai Deeper Kyo: A Different Person, Chapter 4/??
Marchen Awakens Romance: PhantomxAlviss for

12_fics, 3/12
Marchen Awakens Romance: PhantomxAlviss for

7_sins_virtues, 1/7
Marchen Awakens Romance: Alviss for

1sentence
Marchen Awakens Romance: Ginta + Alviss + Danna

Samurai Sentai Shinkenger: TakeruxRyunosuke
Stylesheet by

littlegraphix

Connect
aiba hiroki
,
air gear
, alviss,
beyblade
,
bleach
,
fanart
,
fanfic
,
fuji syuusuke
,
gokudera hayato
,
hey! say! jump
,
hitsugaya toushirou
,
katekyo hitman reborn!
,
kazu
,
kyo
,
mar
, mikura "kazu" kazuma,
nakajima yuto
,
nanashi
,
phantom
,
reading
,
rei kon
,
samurai deeper kyo
,
sanada yukimura
,
sarutobi sasuke
,
shonen-ai
,
sleeping
,
writing
,
yamada ryosuke
,
yaoi
Administrators

Linking
To link to this user, copy this code:
On Dreamwidth:
Elsewhere: